Wiesbaden: House Hunting Vignettes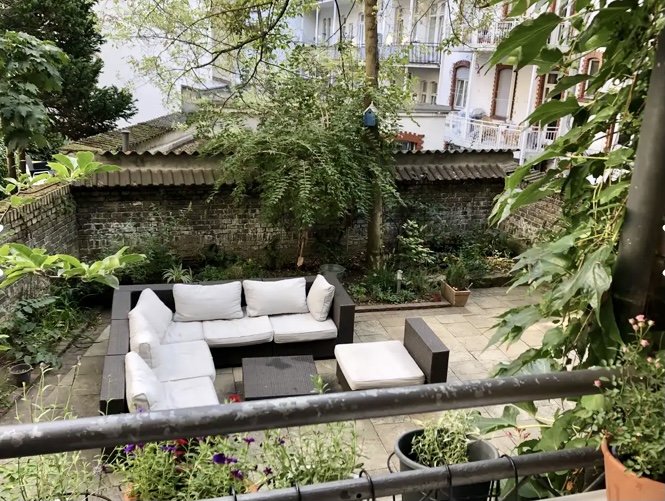 It was a bit of a shock waking up to an email saying our landlords were moving back to Germany from Switzerland. Covid. Who could blame them for wanting to come back to their home, since borders have been mostly closed since last year? "Home", the USA, was calling me too. But with three months' notice and two girls who needed to finish off their school year, the timing to return just wasn't meant to be.
It was depressing, but once my heart caught up to my brain and accepted going home wasn't an option, I found familiar comfort in one place. Wiesbaden. It's where we lived our first two years in Germany. It's a memory keeper: rain-soaked walks in the Kurpark, apple strudel with warm vanilla sauce in a cafe where wait staff wear aprons, Riesling in candle-lit wine caves, meanders under an umbrella of Plane trees lining pedestrian boulevards, and feasting on succulent duck and Dornfelder in a restaurant exuding a different time and place, the Belle Epoch. Moments in Wiesbaden were never dull or tiresome, and they were never loud and obtrusive. If Wiesbaden were a cocktail, it would be a Manhattan: sweet with a slight hint of bitters; copper patina cradled in dainty crystal stemware meant to be sipped. This libation isn't for forgetting, it brings the present front and center while allowing you to languidly inhale the past.
My excitement grew when our house hunting began. It's hard to open a door in Wiesbaden without getting drawn into the city's beauty and history. Was I wearing rose-colored glasses, or was it the first house's reflection in my spectacles?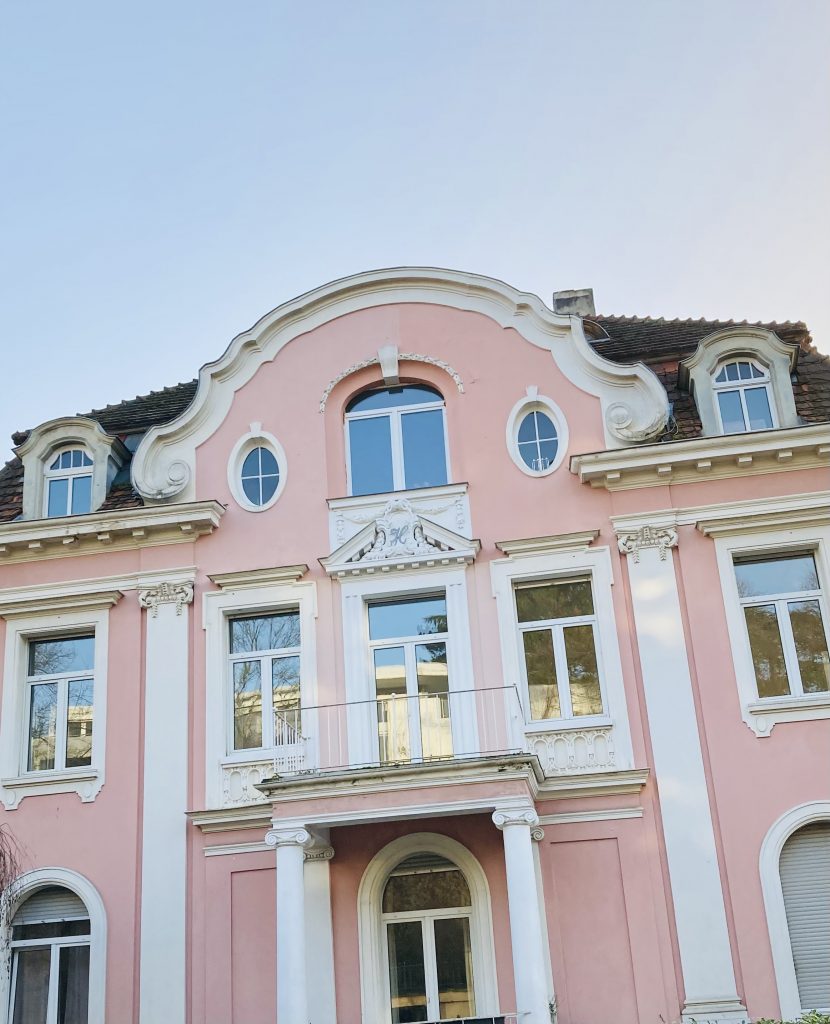 The Pink House – The majestic pink house checked many boxes. The street was a feast for the eyes. This house looked like a birthday cake from pre-teen youth dreams; four stories held up by white Corinthian columns. Each floor was a separate flat. A white oval decorative medallion centered over the main entry held the initial of the owner, "H". The house was a pastel reflection of its two near identical neighbors, which were in delicious shades complementary to buttercream, yellow and cream.
The owner was genuine, funny and approachable; a German university professor who teaches luxury marketing. His casual demeanor was the opposite of the cars in his driveway: Tesla, Porsche and a vintage Mercedes. The wheels were ostentatious, but oddly, he wasn't. Neighbors included the Henkell wine family, famous for their sparkling wines. I couldn't help but wonder if the current owner's knowledge of luxury marketing factored this into the purchase? And was it a coincidence or product placement when I saw a Henkell Rosé perched on a box in the garage?
My favorite cake shop, bookstore and hairdresser were a five minute walk. But there was one hiccup that gave me pause, the house was two bedrooms with a separate one bedroom private apartment. It was disjointed, not unlike our current family dynamics. Our unit of six will soon dwindle down to three, as two daughters head to college and one begins her post-college life. While downsizing is inevitable, I just wasn't ready to move into a house where two separate doorways would divide our family. And besides, my Jetta would bring the class down in this neighborhood, so the wheels rolled on.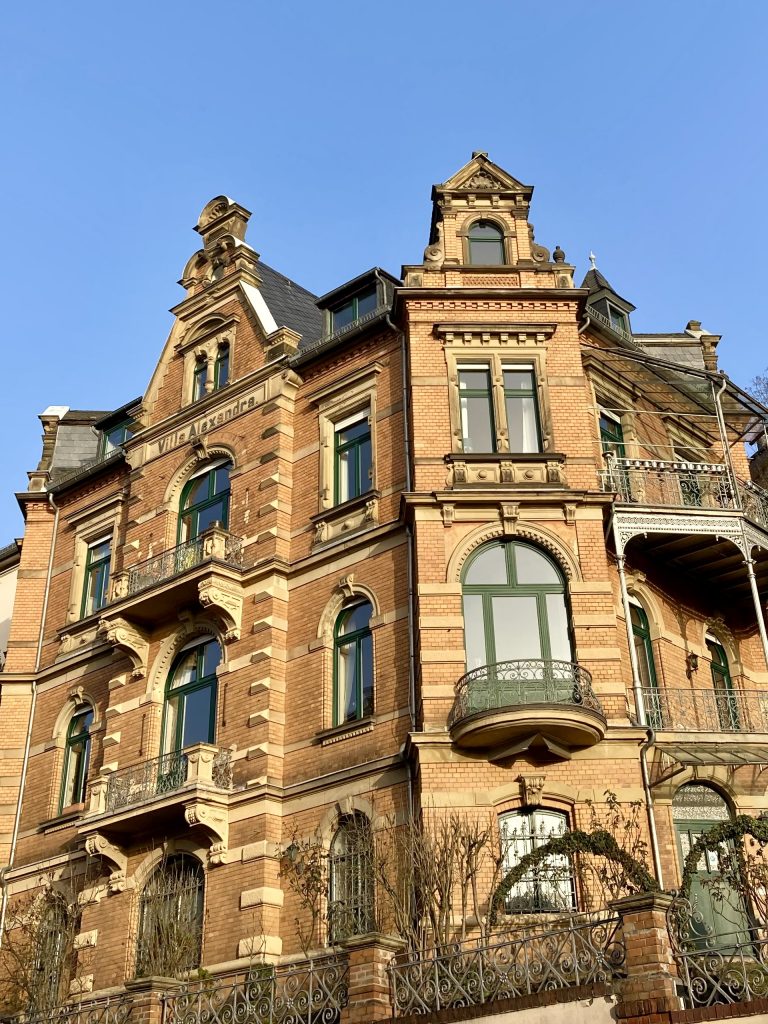 Villa Alexandra – Built in 1890, this structure was once a grand mansion. Like many 19th century Wiesbaden mansions, each floor has been turned into an apartment. Local rumor says this home was built for Alexandra Romanov for her visits to Wiesbaden (she's from Darmstadt). The apartment was on the top floor, so the views were amazing! The terrace, living room, dining room and loft all had views of the Russian Orthodox Church, St. Elizabeth's. Delicious aromas of curry and coriander drifted four flights up the stairwell. The owner, who lived two floors below was making her family dinner. A pretty park with an outdoor cafe could be reached on foot within minutes, as could the church. This one left me breathless for its history, views, period details and four flights of stairs.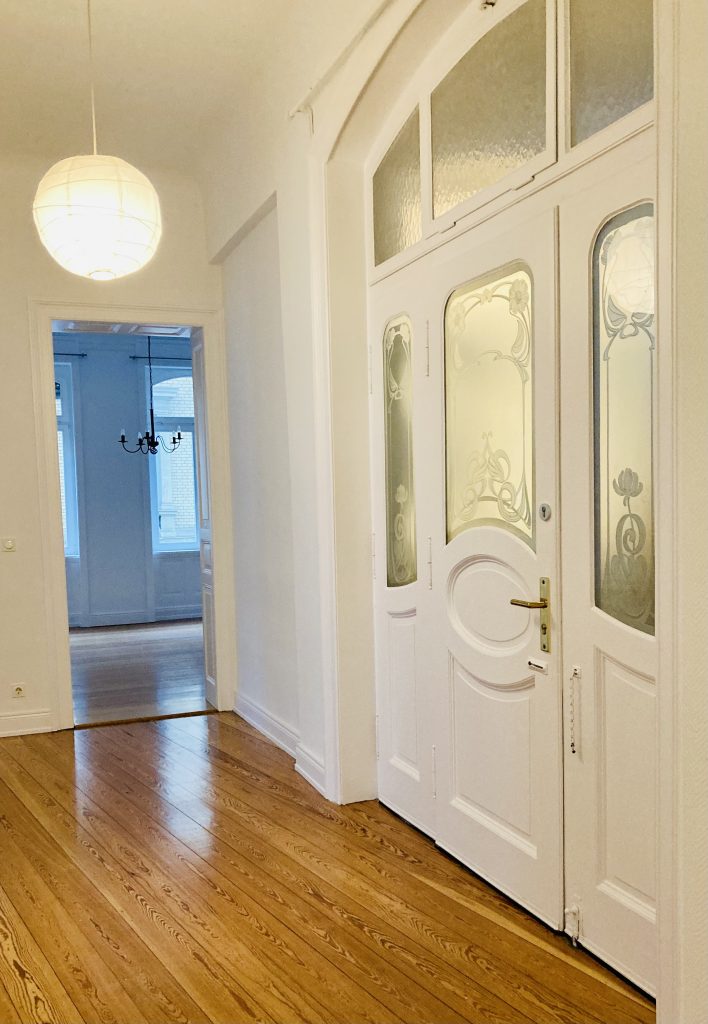 House of Cards – This flat was located over an Apotek. A beautiful staircase led up to a grand entrance. The double entry doors were Belle Epoch style with opaque glass panels. The entire apartment was washed in light. The wooden floors practically glowed. The views included some of my favorite stores. It was the largest of all the apartments seen and had two small balconies. It met all requirements, but it felt like a house of cards. Too perfect not to crumble, and the realtor was pushy and assertive, constantly reminding us it wouldn't last long (it had already been listed over a month). This flat was only a three minute walk to one of my favorite restaurants for flammkuchen and schnitzel, too close! I imagine rolling home around the corner post dinner, weight gain and guilt would follow.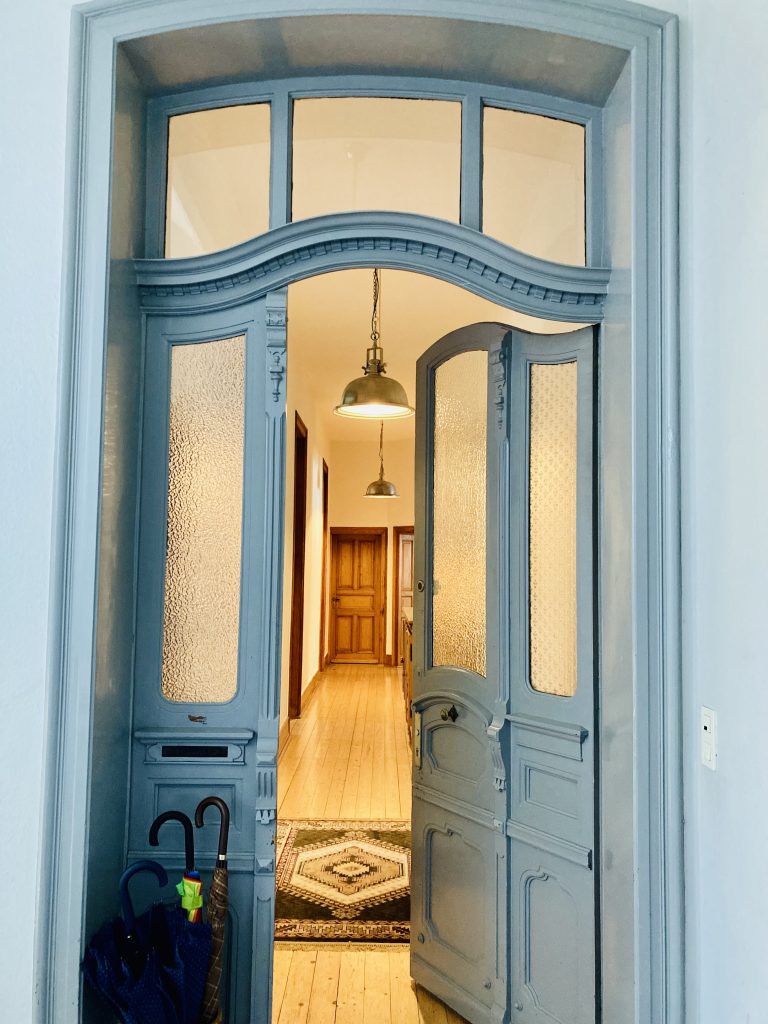 Provincial Blue Door – I've always loved the South of France, so this 1903 apartment's blue door, embellished with the original Fleur-de-lis glass panel felt like a personal greeting. This flat didn't scream to be noticed, beauty was in its subtlety. It felt like home. I loved the worn wooden floors, decorative crown moldings and how the two wrought iron balconies showed their patina; add to this a study with a wall of built-in bookshelves and an eat-in kitchen with commercial style stainless steel counters and a balcony overlooking a courtyard garden oasis. I felt a connection to the tenant, who has been living in this flat for 12 years with her husband and four sons. She's an artist, which explained the original pieces dotting the walls throughout the flat. Her husband's piano and kids' guitar were in the living room. The combination of music and art dispersed a bohemian essence. The space wasn't pristine, it was perfect! And the apartment was only a five minute walk to the train station and located in an unfamiliar pocket of Wiesbaden, which added to its appeal. Behind the Fleur-de-lis blue door, I see our family.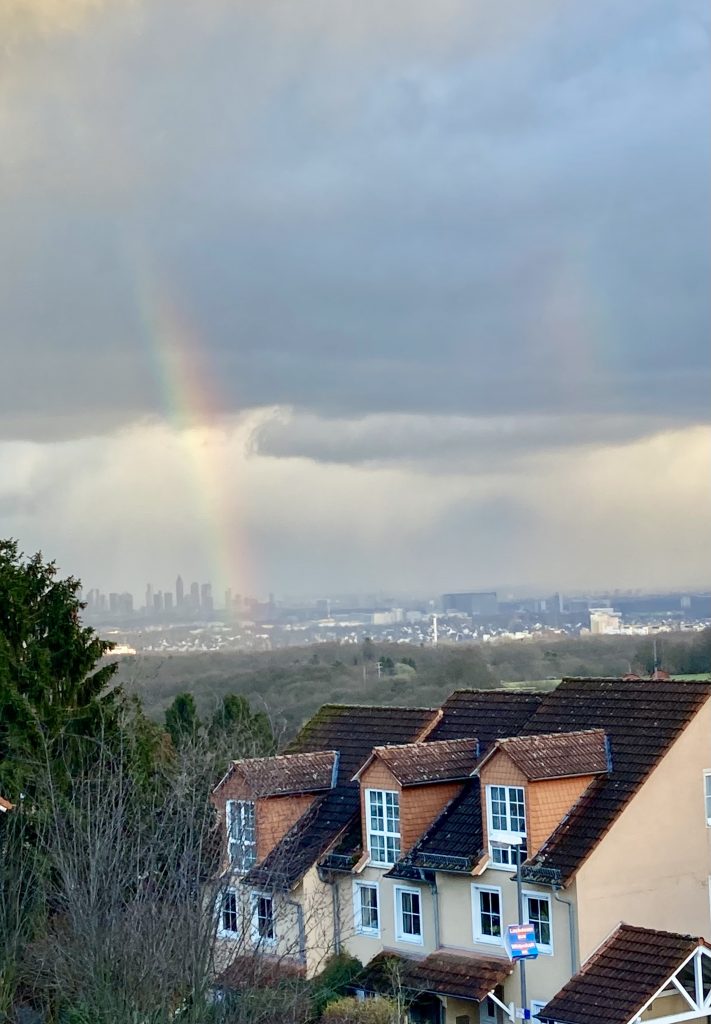 Goodbye House with a View – The house we're leaving will soon become a time capsule of the pandemic. We moved in on February 01, 2020. It is forever the house where the pandemic gifted the opportunity to have all four daughters under one roof again, and where kind neighbors brought fresh hydrangeas from their garden and homemade Frankfurt Grüne Soße (green sauce) and Bee Sting cake. Living alongside these wonderful humans during a pandemic reminded me why it's imperative to continue German. I'll miss the unobstructed views of downtown Frankfurt and being mesmerized by the flight path over Frankfurt International Airport, especially at night.
But there are things I won't miss: the "safe room" in the basement built in 1932. My dog won't even go down there without a biscuit prompt. And I won't miss the slippery front steps where our 11 year old daughter fell and landed in the emergency room with five stitches and a chipped tooth. And don't get me going on the hard core mountain bikers who huff and puff going up our steep one-way street in the wrong direction, so they can stop at the top and take pictures. I'm telling myself what I've wanted to tell the bikers. It's time to move on.
Residing in the familiar folds of Wiesbaden won't be the same as moving back home to the US, but it will be comforting to return to a known place. I'm excited to trade chipped teeth and creepy basements for chipped patina and chandeliers. Looking back fondly on an ending, I'm eager to embrace the inescapable alluring elixir of a beginning. Cheers, to Wiesbaden ~ (Judy's Manhattan Recipe)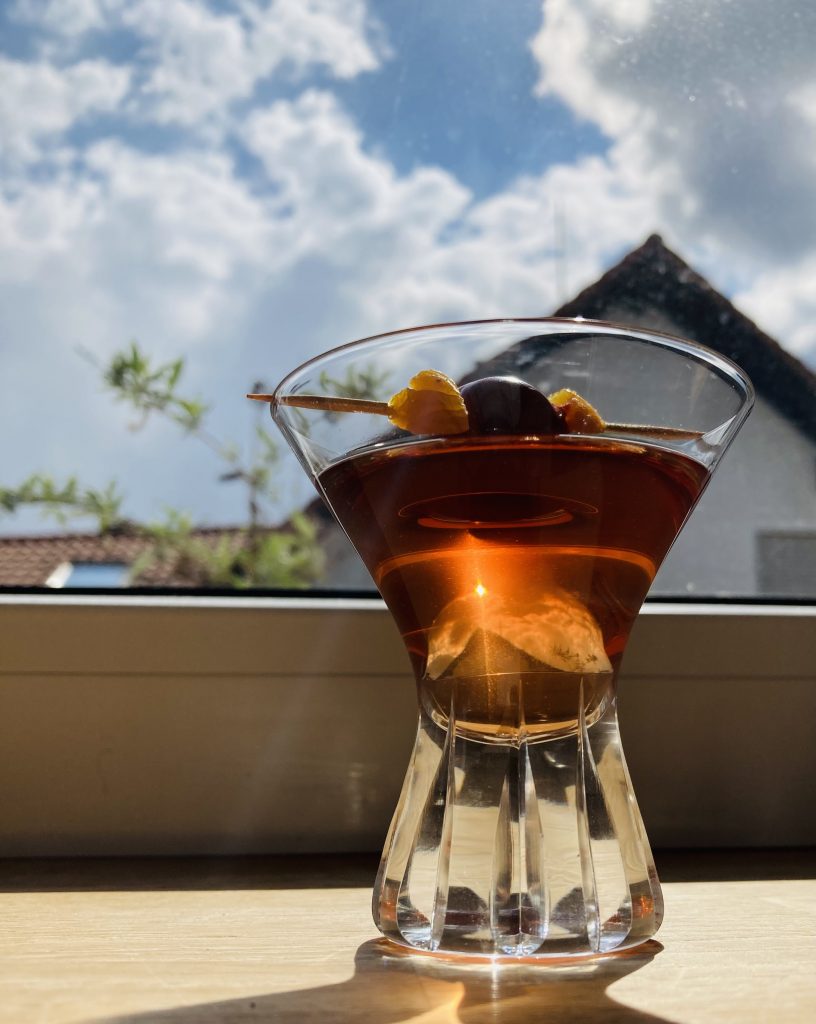 ---