A Tale of Two Sisters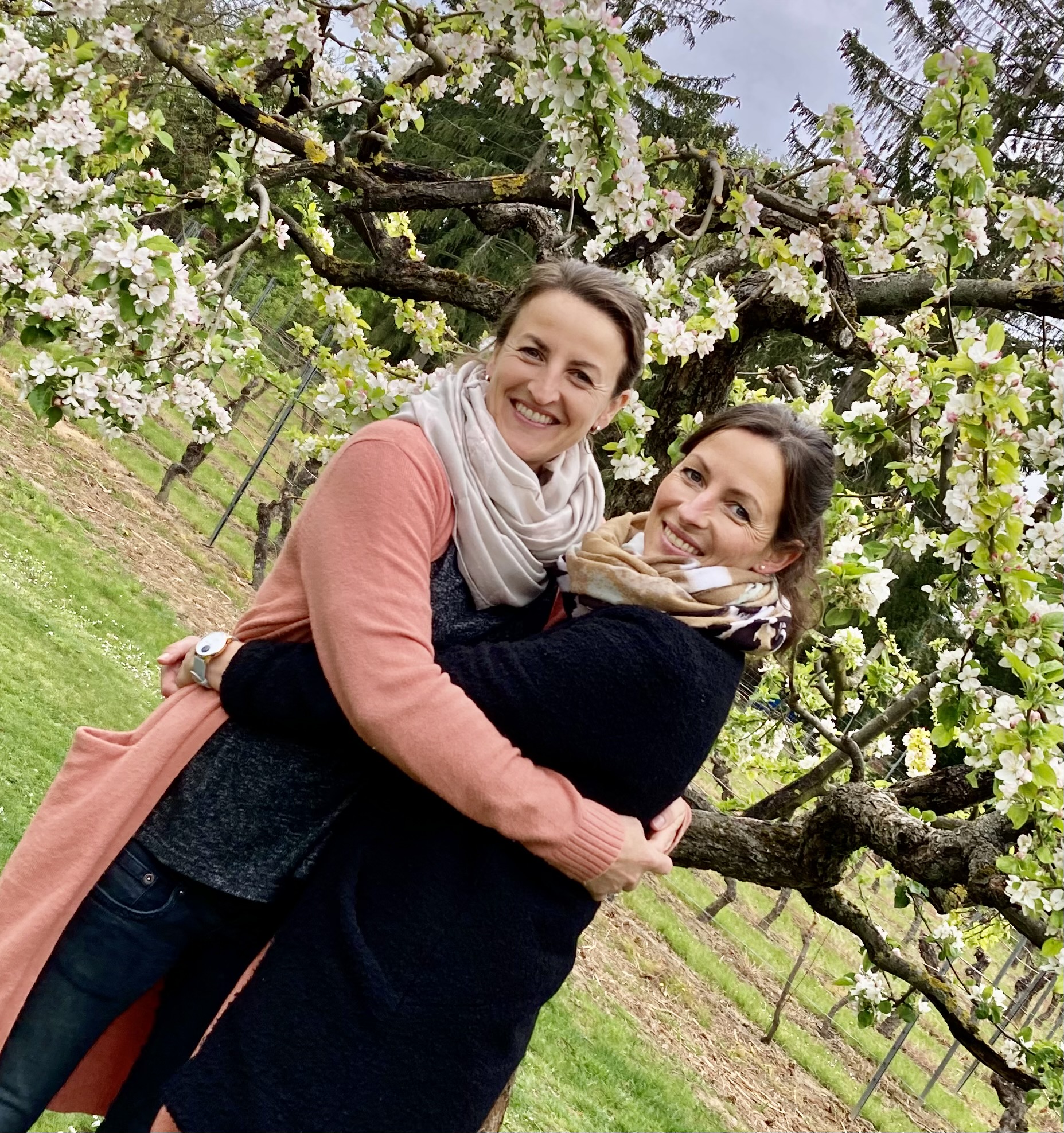 Like the gnarled wines four generations have planted, nurtured and cultivated in the Rheinhessen village of Bechtheim, sisters Janine Brüssel and Jasmin May were bestowed the ingredients to not only thrive, but flourish. You would be hard pressed not to fall in love with these two charming beauties, but they have crushes of their own – Grapes!
Smiles turn soft as they play off each other's words retelling a story from their youth, when their blue eyes could barely see over the delivery truck dashboard. A Phil Collins cassette often accompanied them on wine deliveries with their dad. It's easy to imagine Dad and his girls rambling down Hessen country roads while the girls' pigtails bobbed along with tunes like, "You Can't Hurry Love."
"My mama said, you can't hurry love
No, you'll just have to wait"
She said, love don't come easy
But it's a game of give and take…"
The excursions offered time with Dad and treasures at each stop. The customers, which over the years had become family friends, anticipated the girls visit just as much as their crates of wine. It was common for Janine and Jasmin to be greeted upon arrival with smiles bearing: cakes, candy and coins.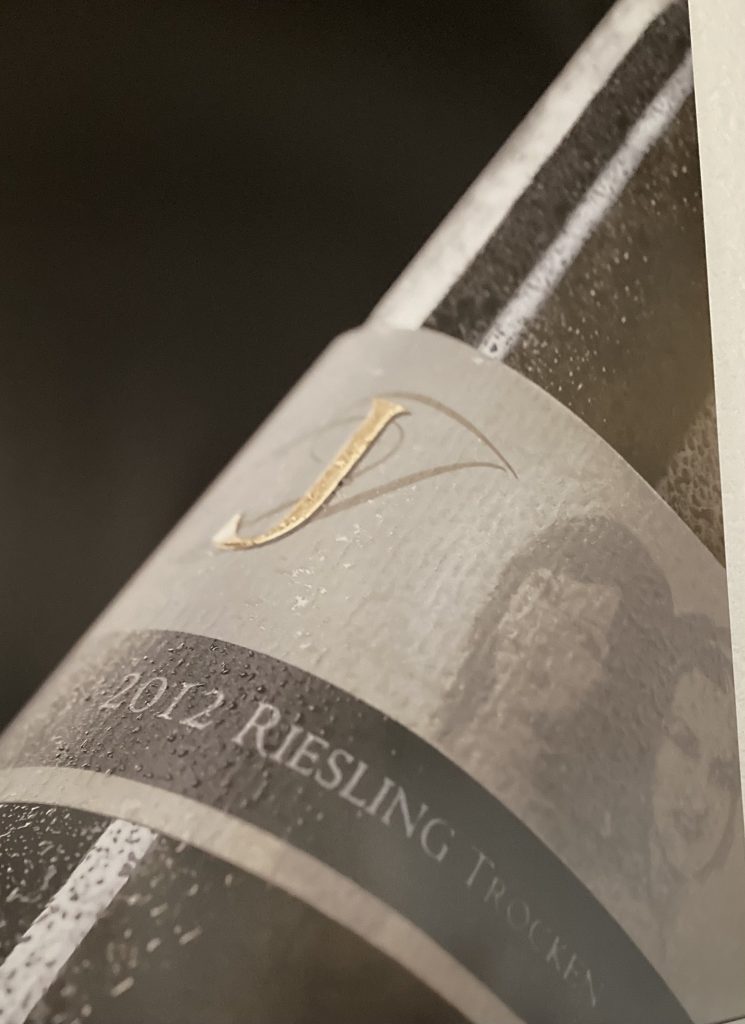 But something curious happened when the girls grew into young adults and traded pigtails for barrettes: they noticed when customers called with orders or questions about the year's harvest, things they were capable of handling, the customer often requested one of their parents. The community they served couldn't fathom the girls had grown into competent knowledgeable women who could parler wine as coherently as their parents. Like harvesting autumn grapes clinging to the vine, these women realized the time was ripe to act. Their next move was bold, and then it was bottled!
The duo developed a wine and wrapped it with a label bearing their image, killing two birds with one stone: allowing customers to taste their skill level while showing an image of two adult women. This idea worked so well, they did it three consecutive years, producing a different wine each time: a red blend, Riesling and Weisburgunder. These limited editions flew off the shelf and sold out, every time!
Over the decades both women furthered their knowledge of oenology and viticulture, but took separate paths. Janine spent years traversing far and wide, apprenticing at some of the best vineyards in Germany, Austria and New Zealand. All the knowledge, demanding labor and experience she acquired in lands afar, she brought back and poured into what originated four generations prior and continues to be bottled, Weingut Brüssel. Her feet are firmly planted back home among the vines or in the cellar where her love of wine, family and community took root, Bechtheim.
Jasmin stayed closer to home, graduating from a prestigious institution specializing in viticulture programs, Hochschule Geisenheim University. And then the beauty from Bechtheim fell in love and married a local, Fritz May of Weingut Karl May, a seventh generation wine producer with cellars only 3.1 kilometers from where Jasmin and Janine worked alongside their parents to preserve and propel the family's estate. Times and circumstances have evolved since their pigtail delivery days, but not everything has changed. These sisters remain best friends and are still within arms reach of each other, and to their parents.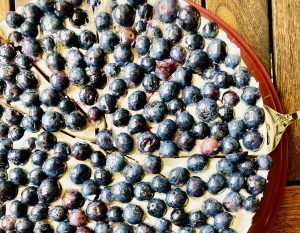 Sitting in the garden with Janine and Jasmin, while their dad quietly passed a soccer ball with giggling grand-kids, and the bouquet of their mother's "Fantasy Blueberry Cake" left nothing wanting. Like the Brüssel and Karl May wines nestled side-by-side in my basement, the intoxicating memory of this day is bottled, sealed and waiting to be uncorked, consumed and shared. This occasion remains a lovely portrait, one in which I was graciously welcomed into the frame.
Phil Collins was wrong, sometimes love does come easy, at least for the sisters from Bechtheim.






**For more information on how to bring these two family wine labels into your home, updated lists can be found on their websites, which are in English too! (Note: Due to Covid, wine tastings and group visits are not possible, however you can call ahead and arrange a private tour/wine pickup.)
Tel: 06242-7048
Fax: 06242-7077
info@bruessel-wein.de
www.bruessel-wein.de
Tel: 06242-2356
Fax: 06242-3690
info@weingut-karl-may.de
www.weingut-karl-may.de
---