Schweinepfeffer – Paprika Pork Stew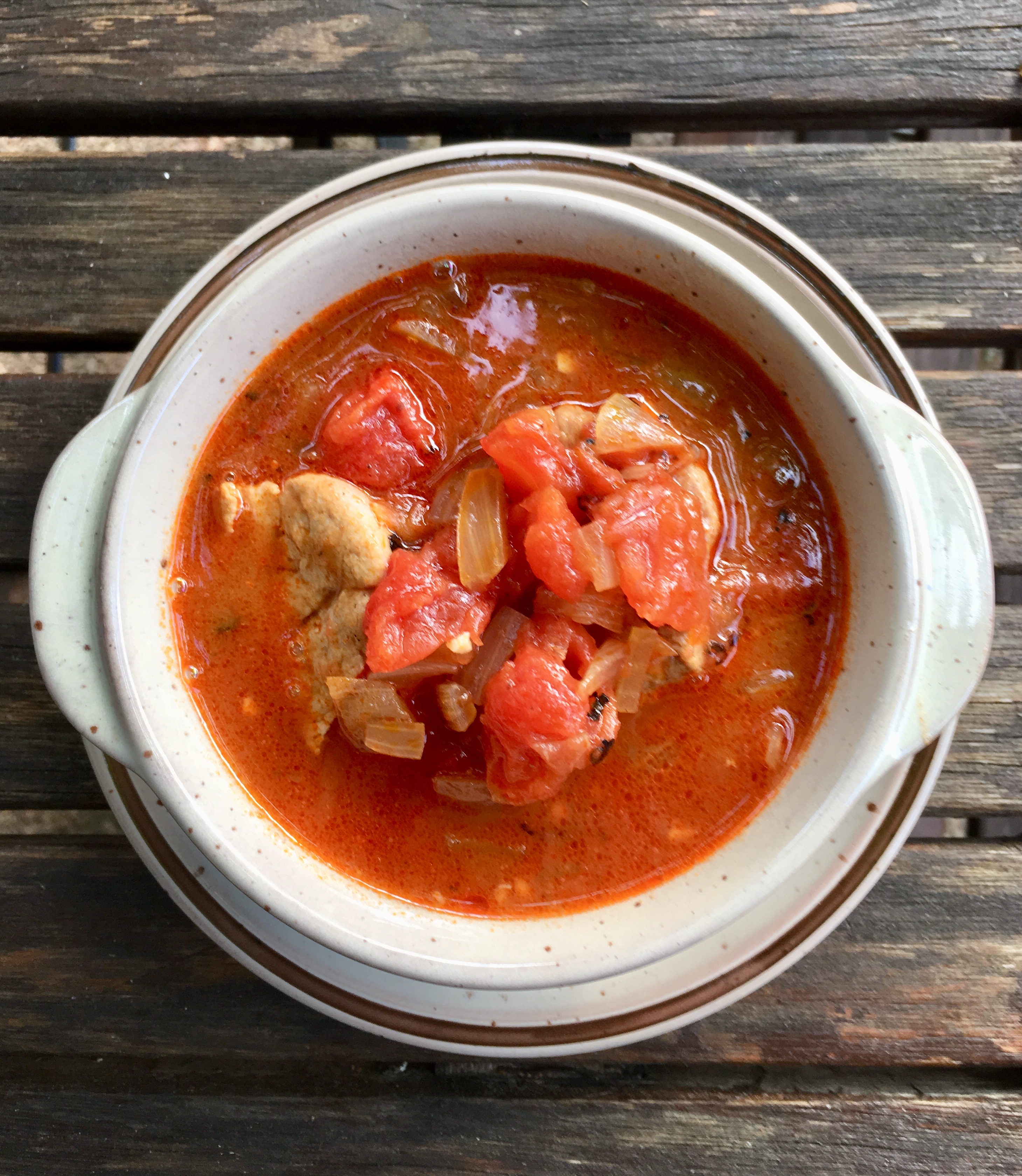 Autumn is coming.  In anticipation for my favorite season, I recently cracked open The German Cookbook by Mimi Sheraton (former New York Times restaurant critic).  Thumbing through I found a stew that sounded filling and easy, Paprika Pork Stew.  Like the country that inspired Ms. Sheraton's cookbook, the ingredients are hearty and culminate into a thick robust bowl of comfort.  Delicious served over spaetzle or egg noodels with a side of sour dough bread.
I hope you enjoy!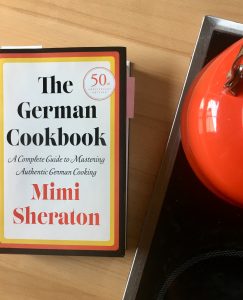 Ingredients:
2 pounds lean stewing pork
4-5 slices of bacon
1 generous tablespoon paprika (I love Karl Müller spices!)
2 cups drained, canned tomatoes, cut in pieces
3 cups of water, or as needed
1 clove garlic, optional
1 bay leaf, optional
2 tablespoons flour dissolved in a little cold water
salt to taste
1/2 cup sour cream, optional
Cut pork into large cubes and set aside.
Fry bacon pieces in a 3-quart Dutch oven or in a stew pot.  Once all the fat is drained, remove bacon pieces.
Add the cubed pork pieces to the bacon fat and brown on all sides.  You may need to work in batches (don't overcrowd the meat).
Once browned, remove from pot and add onions and paprika.  Saute' for 4-5 minutes over medium heat, or until onions become soft.
Add tomatoes to the pot, along with the pork.
Next, add enough water to cover the stew halfway.
If using garlic and bay leaf, now is the time to add to the stew.
Cover the pot, bring mixture to a boil and then reduce to a simmer.  Allow to simmer for 1 1/2 hours, or until meat is nice and tender.
To thicken gravy, dissolve flour in a small amount of cold water and stir into the stew.
If you're adding sour cream, do this now.  Bring stew back to a boil for 3-4 minutes until thick and smooth.  And voila – done!
---
---