Cafe Maldaner: A Waltz Back in Time
I recently visited a cafe in the German town where I live, Wiesbaden. In normal times this event would have been brushed off, likely forgotten. But these aren't normal times. I haven't been to this cafe since 2019. Walking into a place that appeared untouched by time and circumstance brought an unexpected sense of relief, and a tinge of nostalgic numbness for yesteryear.
Spinning through Cafe Maldaner's original wooden turnstile doorway transports patrons to a bygone era, a place where pastimes from the 19th century are encouraged, languid conversations and lingering for hours. Welcome to what regulars call, "the living room of Wiesbaden", Germany's oldest Viennese style cafe.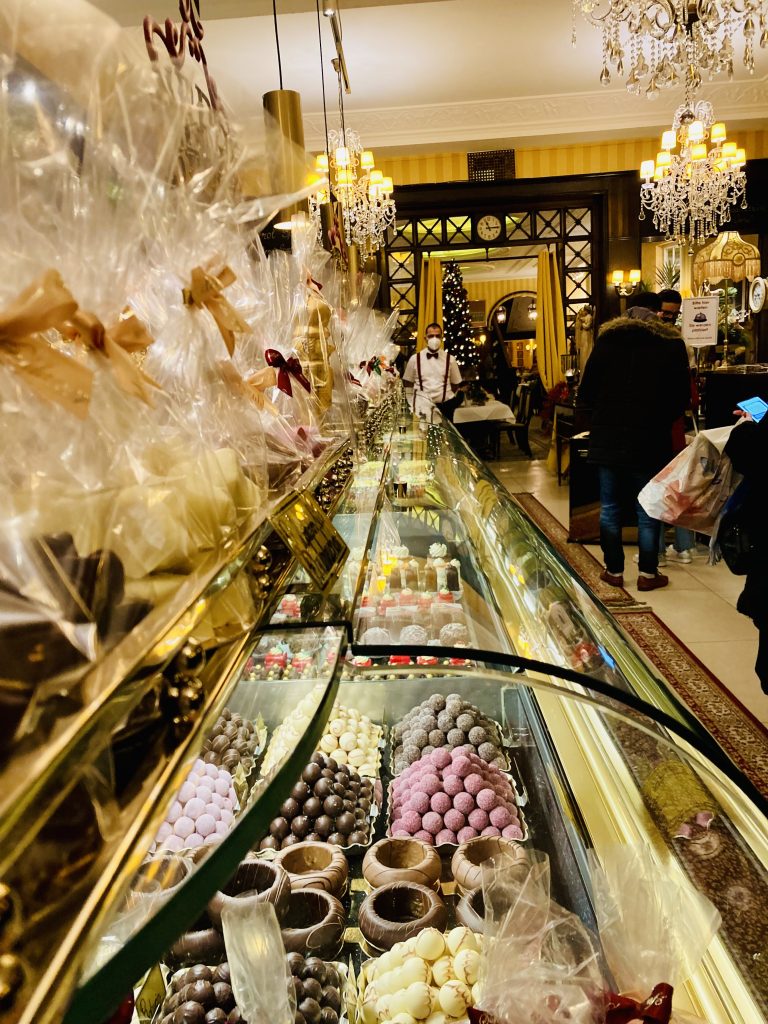 As you exit the turnstile, you're greeted by a long glistening pastry case and aromas of fresh brewed coffee, the beans are roasted just around the corner. Prompt intrusive service has become a 21st century expectation, but it doesn't exist within the cafe's yellow silk-lined walls. Under chandeliers and among the clatter of porcelain delivered on silver trays by tailored wait staff, guests are inclined to lose track of the century they inhabit under faint melodies of Mozart and Vivaldi.
I've enjoyed countless hours nursing a cup of coffee and eating warm apple strudel in the company of family and friends, but often I found myself like so many others –  sitting alone daydreaming, writing and witnessing life in slow motion: ladies dining among friends, men devouring spoonfuls of potato soup with crusty bread while sitting alongside their well-mannered Irish Setters, wide-eyed tourists and locals cradling cups of steaming beverages in one hand, while the other hand flips through pages of Thomas Mann, Hanna Arendt, Herman Hesse or the Wiesbadener Kurier.
This local institution will satisfy those addicted to sweets too: pastel petits fours, multiple layered cakes with fanciful script, apple strudel and waffles dusted in confectioners sugar, dense chocolate black forest cake and piles of pretty white meringue swirls will leave nothing wanting.
At Cafe Maldaner, your purchase extends beyond consumption. You're buying a historical piece of real estate for the price of a cup of coffee (currently €2.90). The table and chair are yours for as long as you choose. You might be surprised to learn the names who have waltzed by the revolving turnstile: Romanovs, Dostoevsky, Jawlensky, Nassaus, Escoffier, Henkell, and Elvis and Priscilla Presely.
The time spent inside the "living room" of Wiesbaden offered me a sentiment I wish for everyone reading, Solace. Whatever living room you find yourself in this holiday season, may it bring comfort.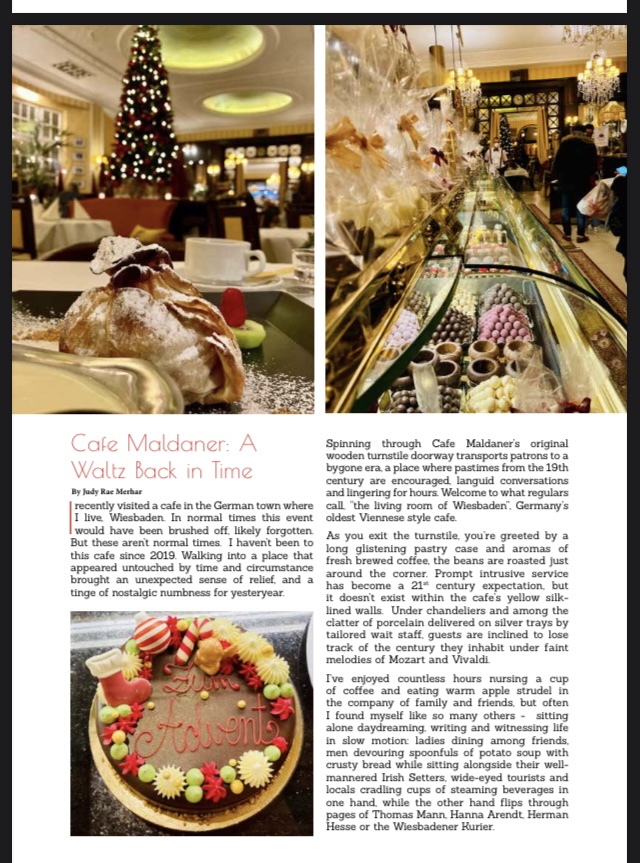 ---