Holger Schwedler: Maverick of Rheingau Wines
(I don't have the heart to take this post down. Holger passed away unexpectedly last November. He was 57. Thankful our worlds collided.)
Sultry vocals of Nora Jones drift overhead in Wingert Vinothek.  Disheveled stacks of wine crates, books by Proust, eclectic art,  lit candles, wooden tables and comfortable leather chairs create an atmosphere of relaxed pleasure.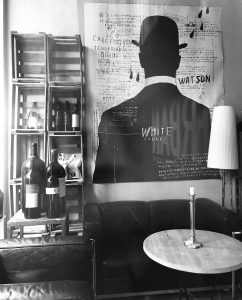 Owner Holger Schwedler, an economist and lecturer of wine studies, could easily be mistaken as a fifth Baldwin brother: intellectual, haughty, and handsome with a gritty charm verging on arrogance. Above all, Holger is passionate and knowledgeable about the regional wines he carries.  You're likely to find this Maverick of Rheingau Wines standing stoically behind a counter top (made from Legos) offering guests tastings on request along with mini-tutorials on the wine he pours.   
The intimate space doesn't allow for a kitchen, so patrons are encouraged to bring their own vittles. You'll find couples unwrapping deli sandwiches while others pull cheese platters and boxed crackers from backpacks.  If you forget your wares rest assured, a shelf with extra plates and silverware are available for use.
If you're looking to mellow and unwind, look no further than this little wine tavern.  Entering the world of Wingert Vinothek, taste buds will likely take flight, along with cares and concerns.  
(Update: On August 15, 2019 Mr. Schwedler is re-opening one of the most beautiful cafes in Wiesbaden, the Literaturhauscafé in Villa Clementine.)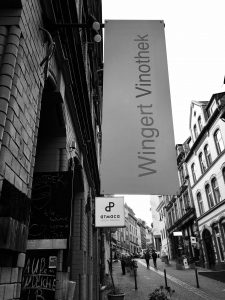 Wingert Vinothek
Address: Obere Webergasse 50, 65183 Wiesbaden
Tel: 0611 16886 555 or 0160 22 755 97
Email: info@vinothek-rheingau.de
---
---